Hello lovelies!
9th of August means Singapore is another year older. As our country enjoys a 4-day long weekend of celebrations (8th August being Hari Raya Aidilfitri or Eid Mubarak, and today, our National Day), I'm here with a super-quick post to join in the celebrations with a National Day manicure.
I did one this time last year, with a gist of our tiny country. Click here to have a look.
Fast forward 365 days, here's this year's mani: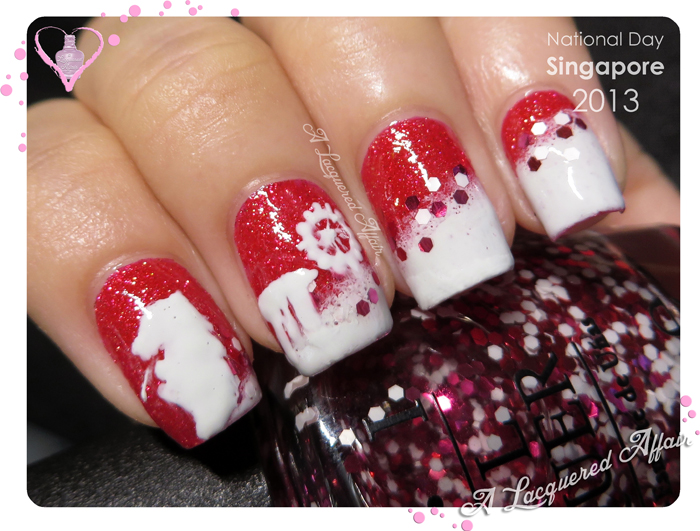 A somewhat similar rendition of last year's mani, but with some freehand nail art detailing - a silhouette of the Merlion on the index finger, and Marina Bay Sands and the Singapore Flyer on the middle finger, popular icons of Singapore. A little boo-boo on the Merlion though. It looks like it's spitting (which is a legal offence here, FYI), but it's supposed to be spurting water like the actual structure.
The white block was sponged at the border for a slight gradient effect.
Polishes used:
♥ OPI Liquid Sand Magazine Cover Mouse (red with pink and gold micro glitter)
♥ OPI My Boyfriend Scales Walls (grey-tinged white creme)
♥ OPI Minnie Style (white and Fuschia mid-sized hex glitter in a clear base)
♥ Topcoat - Glossy Glam by Rica
In another news, it's also A Lacquered Affair's 2nd anniversary this August! *throws more glitter in the air*
I've been way to busy to think of a celebration, but I have, however, gotten a new camera yesterday, out of desperation really. After 5 years of love-hate relationship, it's time to call it quits after it refuses to work.
While I love the crisp image quality of the newer one, getting the colour settings right was exasperating. I'd love to know your thoughts on the colours of the above photo, if it has the same feel as past posts', better or off.
To those with the 4-day long weekend privilege, enjoy! I'm off to more swatching. Toodles!
To Leave a Comment
I've noted that OnSugar's Comment feature has caused a few readers frustration by not accepting their input. While OnSugar works on rectifying it, I did a trial and error and found that comments don't get red-taped if you enter your information in the "Name" field without any space, ie. "ALacqueredAffair" instead of "A Lacquered Affair". I hope this works. As much as I want to, OnSugar doesn't allow the disabling of Captcha.
Disclaimer: I am not sponsored/ endorsed by any of the above-mentioned companies. All opinions expressed are my own, and will always be. All products were purchased on my own.