aka St. Paddy's Day
"Saint Patrick's Day or the Feast of Saint Patrick is a cultural and religious holiday celebrated on 17 March. It is named after Saint Patrick (c. AD 385–461), the most commonly recognised of the patron saints of Ireland." - Wikipedia
Happy St. Paddy's Day, lovelies!
What's everyone doing to celebrate? I remember spotting green nails this time last year and posting them here. Quite a few things have changed since then; watermark, lighting, condition of cuticles, combinations, techniques. I went a little more adventurous this year. And since last year's post had the general St. Patrick's Day info up on the intro, I'll ridden this post with some fun facts.
Side note: A group of ladies here in Singapore have been collaborating on a series of swatches based on a theme or current event under the hashtag #SGSwatchFest on Instagram and St Paddy's Day is one of them. So this post will also coincide with that series.
Base Corr-lours
Starting of with the base polishes over 1 coat of Poshe 4-in-1 Nail Strengthening Treatment Base Coat: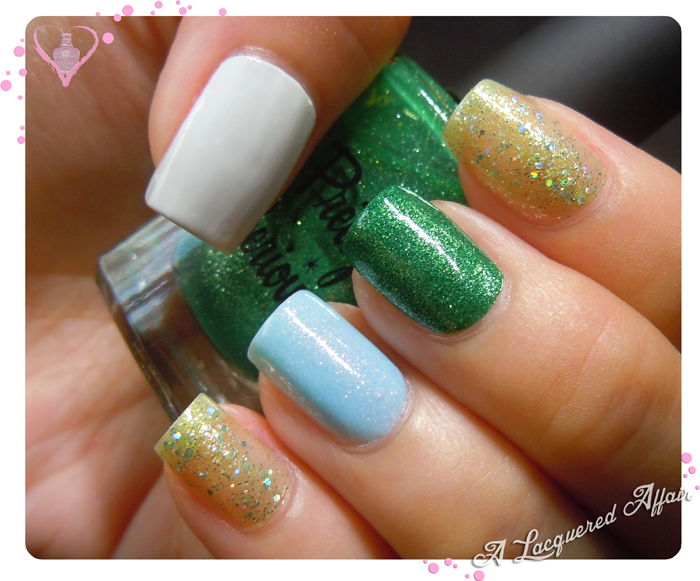 Thumb: OPI My Boyfriend Scales Walls - 2 coats
Index finger: Estessimo TiNS 011 The Four Clover (from Mei Mei's Signatures) - 1 coat
Middle finger: Pretty Serious VT100 - 2 coats
Ring finger: Sinful Colors Conderella (gifted by Cathy, whom I got to know via Facebook) - 2 coats
Pinky: Estessimo TiNS 011 The Four Clover - 1 coat
Close-ups: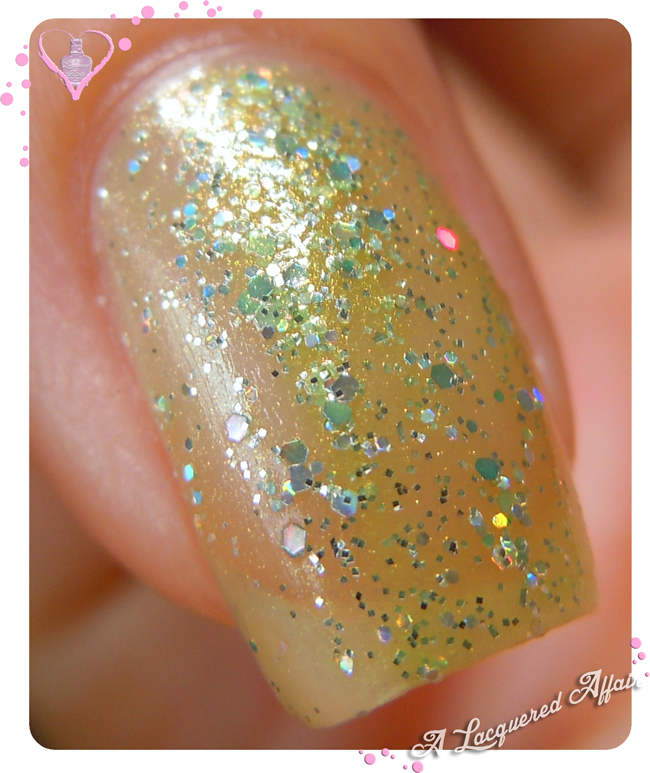 Above: Estessimo TiNS The Four Clover, 1 coat
A rich mix of silver holographic hex glitter with tiny silver holographic hex and square glitter and gold shimmer in a jelly meadow green base.
Fun Fact:
The shamrock was chosen Ireland's national emblem because of the legend that St. Patrick had used it to illustrate the doctrine of the Trinity. The Trinity is the idea that God is really three-in-one: The Father, The Son and The Holy Spirit.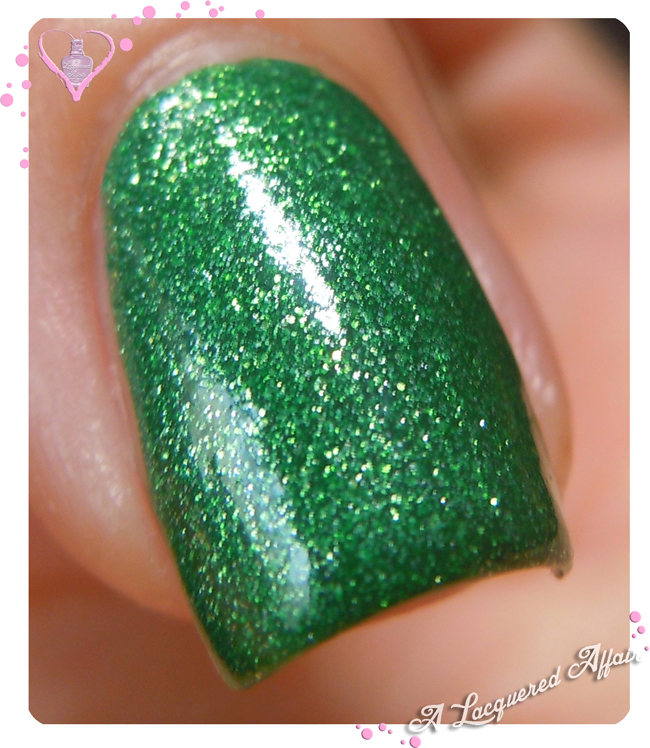 Above: Pretty Serious VT100, 2 coats
A shimmery emerald green with micro gold glitter from the Hello World collection.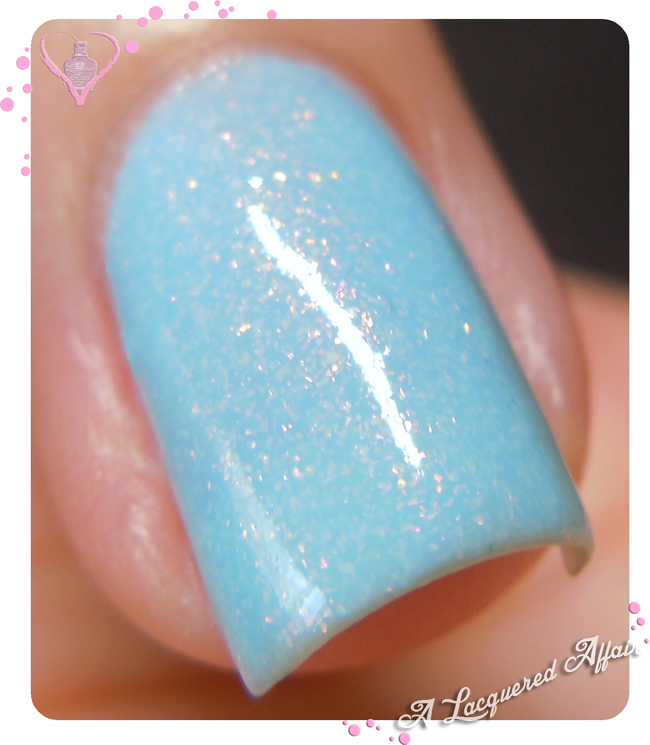 Above: Sinful Colors Cinderella, 2 coats
A baby blue creme filled with pink flecks and shimmer.
I'm skipping OPI My Boyfriend Scales Walls since I've already showcased it in a previous post.
Fun Fact:
Believe it or not, the color of St. Patrick was not actually green, but blue! In the 19th century, however, green became used as a symbol for Ireland. In Ireland, there is plentiful rain and mist, so the 'Emerald Isle' really is green all year-round.
Enya Get...
With all the décor and painting that took about 2 and a half hours: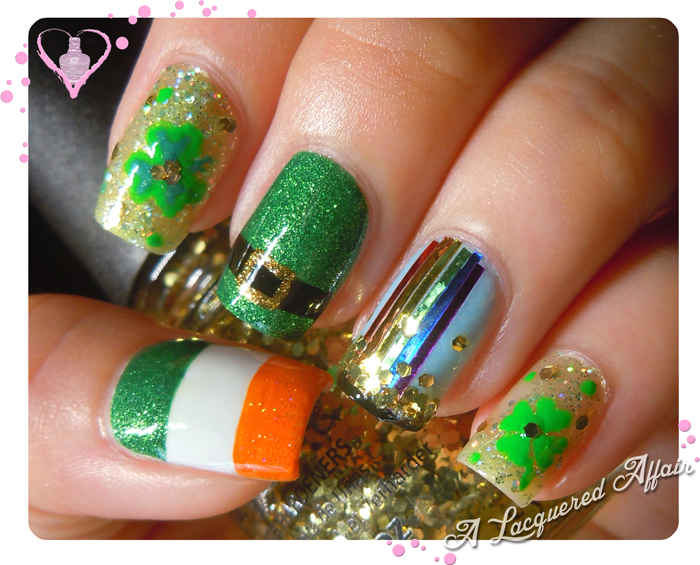 Close-ups: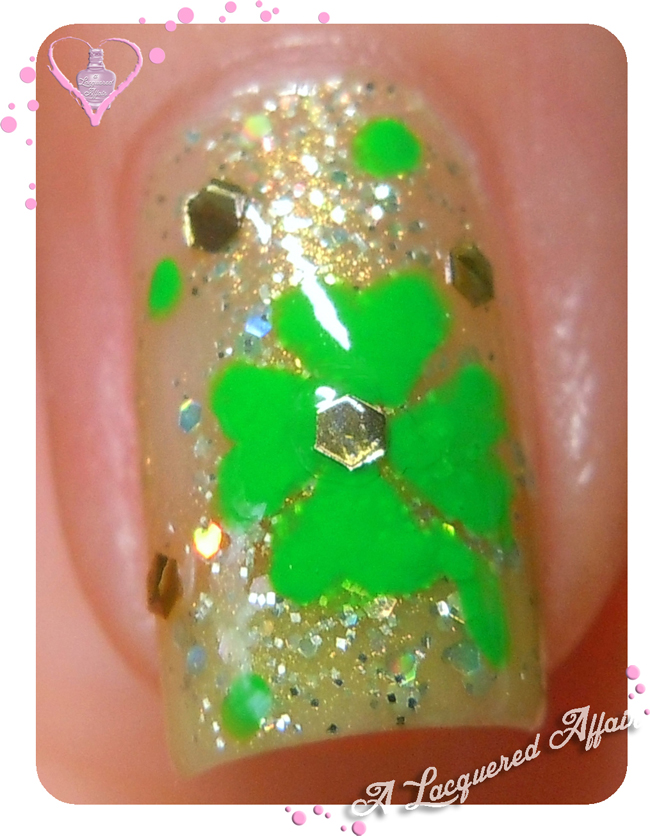 Above: The four-leaf clover
Four-leaf clover - Green acrylic paint, freehand
Large hex glitter - China Glaze Solar Flare, fished and placed with dotting tool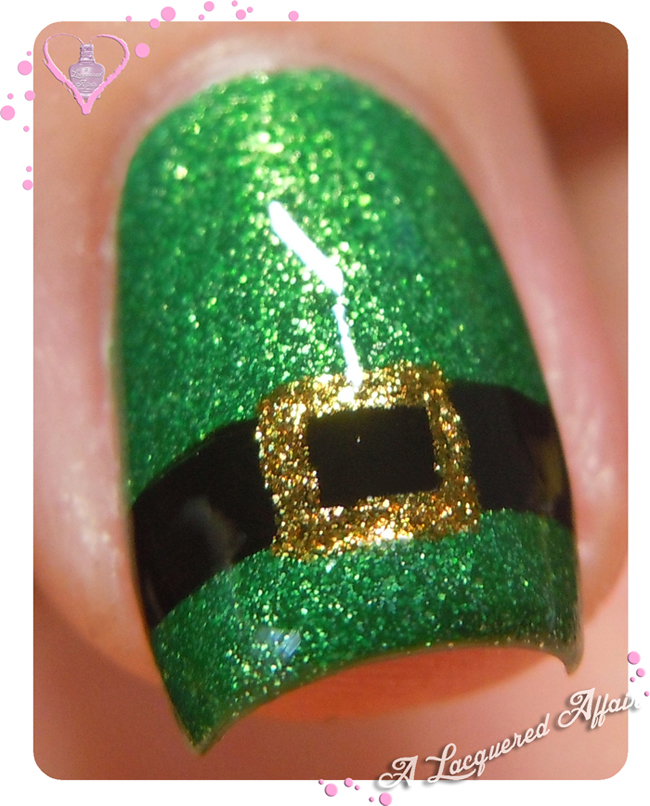 Above: Leprachaun's outfit
Black belt - a-england Camelot, 1 coat
Buckle - a-england Holy Grail (new edition)
FYI: a-england can also be purchased from Mei Mei's Signatures, with international shipping available.
Fun Fact:
Many long years ago, playful Irish children began the tradition of pinching people who forgot to wear green on St. Patrick's Day and the tradition is still practiced today.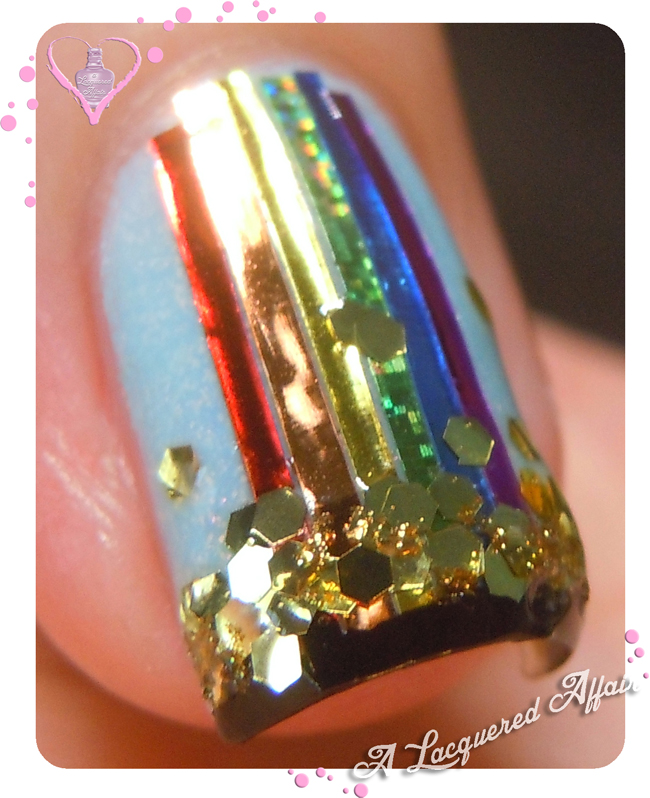 Above: Pot O' Gold
Rainbow - Striping tape in red, copper, gold, green, blue and purple
Gold - China Glaze Solar Flare, fished and placed with dotting tool
Pot rim - a-england Camelot, 2 coats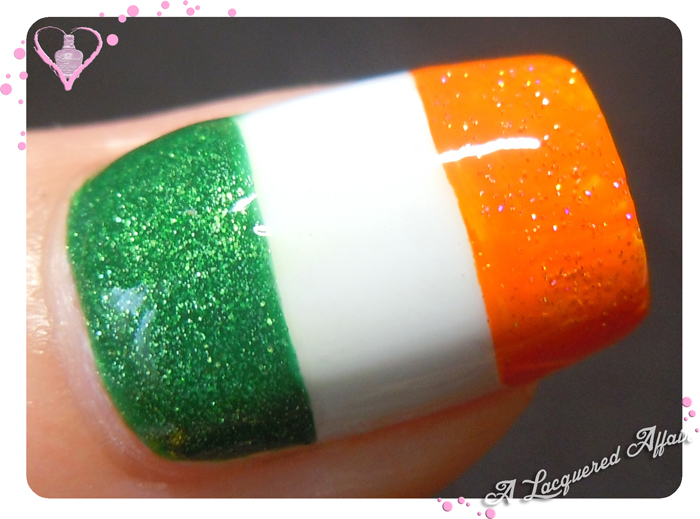 Above: Ireland's Flag
Green - Pretty Serious VT100, 2 coats
White - OPI My Boyfriend Scales Walls, 2 coats
Orange - Orange acrylic paint, topped with Out The Door Northern Lights Holographic Top Coat 'Gold'
Fun Fact:
Saint Patrick was familiar with the Irish language and culture, because of his time as a slave there. When Patrick went back to Ireland to convert the Irish to Christianity, he was successful because he didn't try to make the Irish forget their old beliefs. He combined their old beliefs with the new beliefs.
Last Look
Getting my fingers to post was tough because my thumb made a rare appearance and I always have a problem with placing the thumb in a right position to feature the nail.
Altogether now: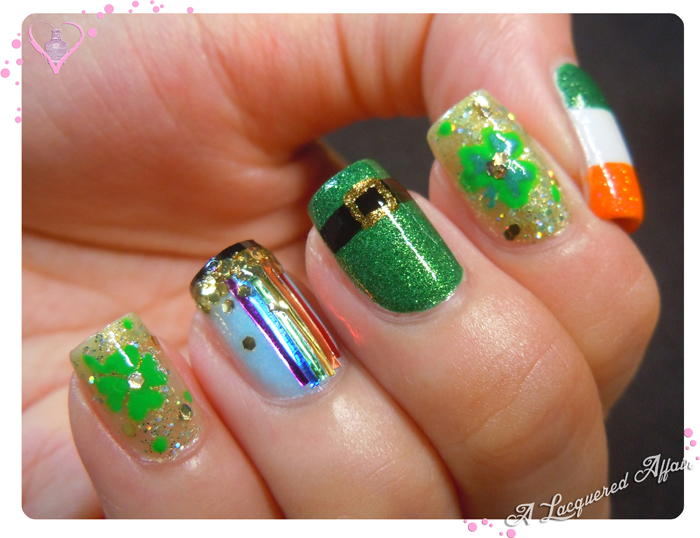 And this is the version I have up on Instagram for #SGSwatchFest: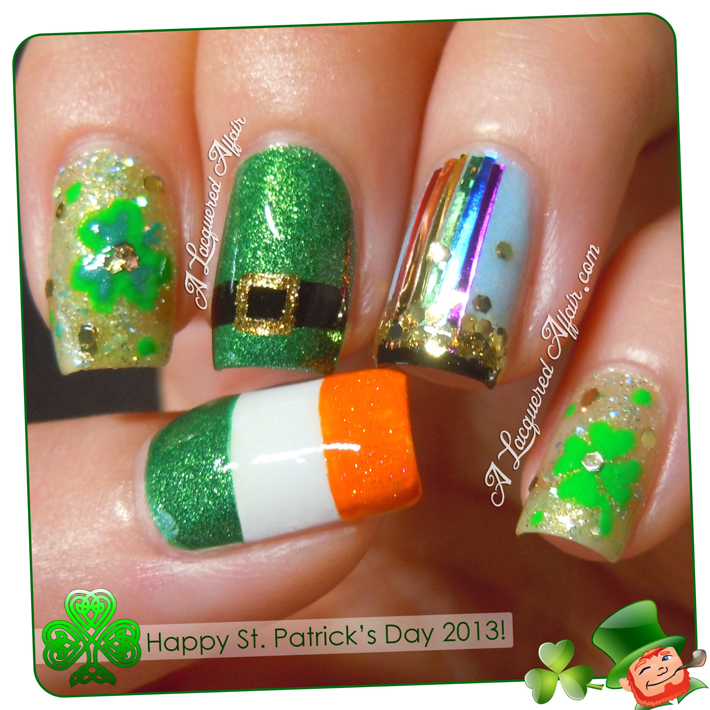 The little extras were courtesy of some of the photo apps I use on the iPhone.
I'm already seeing lots of cool St. Paddy's Day manicures up on various social media platforms. Feel free to share yours in the comment.
Off to MacLaren's (ie. to watch How I Met Your Mother)!
Cheers, everyone!
To Leave a Comment: I've noted that OnSugar's Comment feature has caused a few readers frustration by not accepting their input. While OnSugar works on rectifying it, I did a trial and error and found that comments don't get red-taped if you enter your information in the "Name" field without any space, ie. "ALacqueredAffair" instead of "A Lacquered Affair". I hope this works. As much as I want to, OnSugar doesn't allow the disabling of Captcha.
Disclaimer: I am not sponsored/ endorsed by any of the above-mentioned companies. All opinions expressed are my own, and will always be. All products were purchased by me except Sinful Colors Cinderella.