Celebrating the Year of the Blogger!
"This year it's all about you and celebrating what you do!" - piCture pOlish
Greetings, lovelies!
I'm back and with a very exciting post.
Slightly over a month ago, I heeded piCture pOlish's call for bloggers to participate in this year's piCture pOlish Blog Fest. piCture pOlish is a Australian nail polish company founded and helmed by 2 Australian girls that produces fast forward colours and unique finishes. The challenge is to create our "most amazing nail art ever" and include a tutorial, using the 3 piCture pOlish shades we were provided. And here's what's at stake:
1) All nail art creations go into the running to be chosen to create a collaboration shade with piCture pOlish launching in 2014.
2) There are (only) 3 awards that will be voted and chosen as follows via piCture pOlish:
    ♥ 1 x award - as voted by PP friends and fans
    ♥ 1 x award - as voted by all participants of Blog Fest 2013
    ♥ 1 x award - as voted by Jules & Meg of piCture pOlish
So, please head on to the Pinterest link view all the creations and to VOTE after reading this (or any other participant's post). It'll mean a lot to us ☺
The Shades
The  shades I received are:
♥ Atomic (a collaboration shade with blogger Sarah of Samarium's Swatches), "a silver/ white metallic holo (scattered) that has NO glitter. Atomic contains a holographic shimmer to create a magical shade, complex with a lot going on."
♥ Watermelon, a bright juicy pink with subtle shimmer.
♥ Tiffany, a blue mint creme.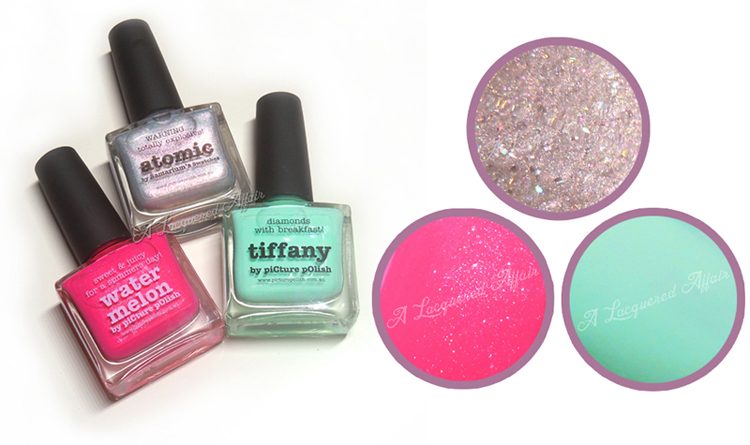 The Inspiration
When I looked at the shades, especially Watermelon and Tiffany, candy pops to mind! And I was taken back to the time I was WOWed by the décor by a candy retailer, Candylicious at Resort World Sentosa here in Singapore.
The cheerful candy shades bring instantly brings smiles.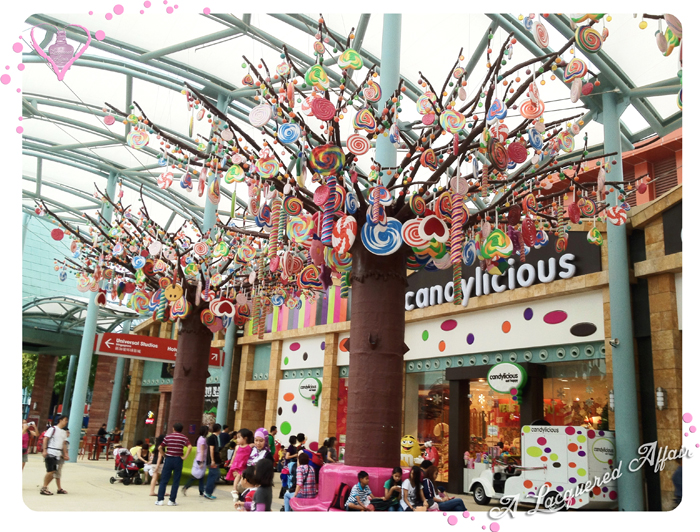 The Manicure
Here's what I came up with: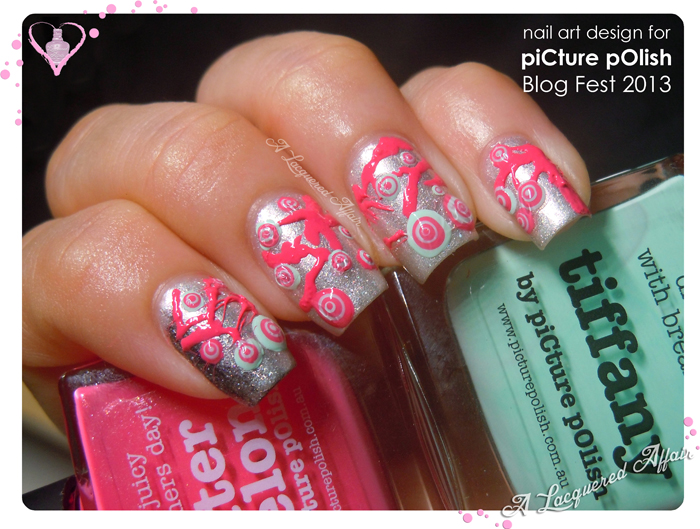 While the dotted candies are a direct intepretation of Candylicious' décor, the tree and backdrop were more Asian-inspired, leaning towards a wintry Japanese Sakura (cherry blossom) tree. I was trying to achieve a fusion feel.
The Tools
In addition to the polishes provided, we were allowed to use certain tools to create our designs. *heaved sigh of relief*
My 'weapons' of choice: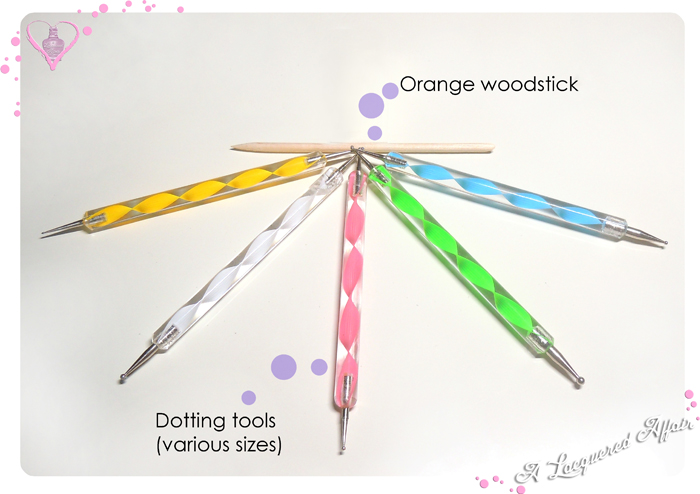 The dotting tools are essential for creating circles of various sizes to depict the candies. Overall, 4 sizes are needed for this design.
The orange woodstick (this one's a mini-sized) serves a few purposes - the angled tip for dab on the tree trunk, and the sharp end for very fine dotting and sugar-spinning. You could paint the trunk with a paint or nail art brush too. They're just not too friendly with (for) me yet.
The Tutorial
A step-by-step guide on how I created the look. It's my first time creating a tutorial, so please go easy. *wide grin* (Grab a beverage and snack, this could be a while):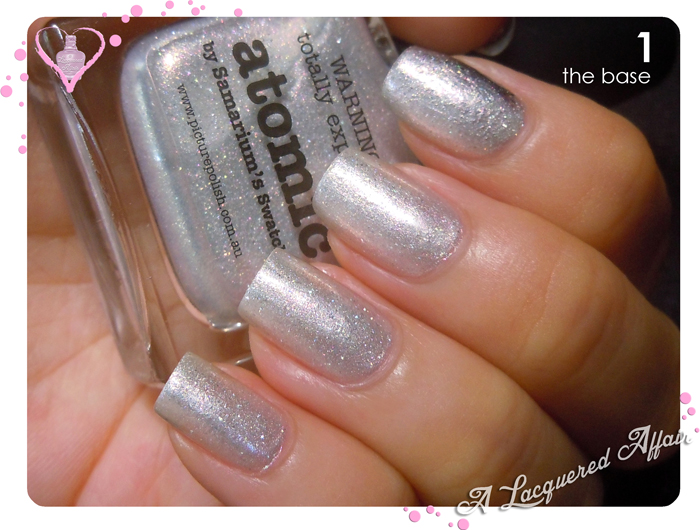 1) The Base
Prep the nails. Apply basecoat, then 2 coats of Atomic, and apply topcoat. We will not be finishing the completed manicure with topcoat to retain the textured 3D effect.
On my index finger, I use a black creme polish on 1/3 of the nail in a gradient effect, but stopped at that as I felt it was too dark.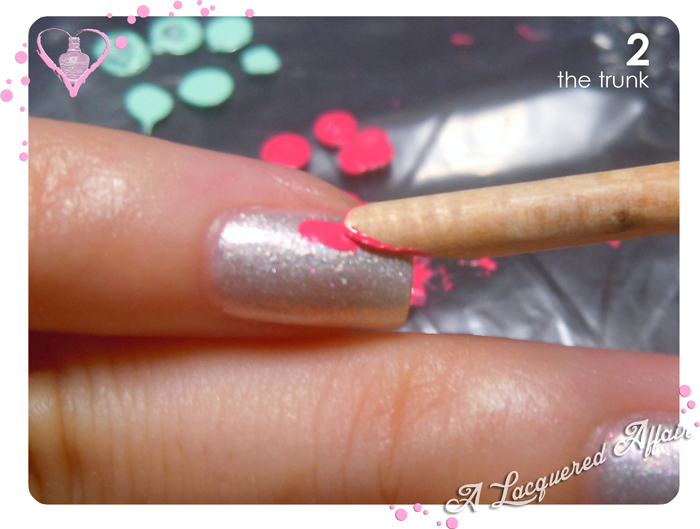 2) The Trunk
Coat the flat angular side of the orange woodstick with Watermelon and dab gently from top to bottom in 2 - 3 motions. It doesn't have to be straight. Irregularity is more desirable to look like a tree trunk.
You could also use a paintbrush or nail art brush if it works better for you.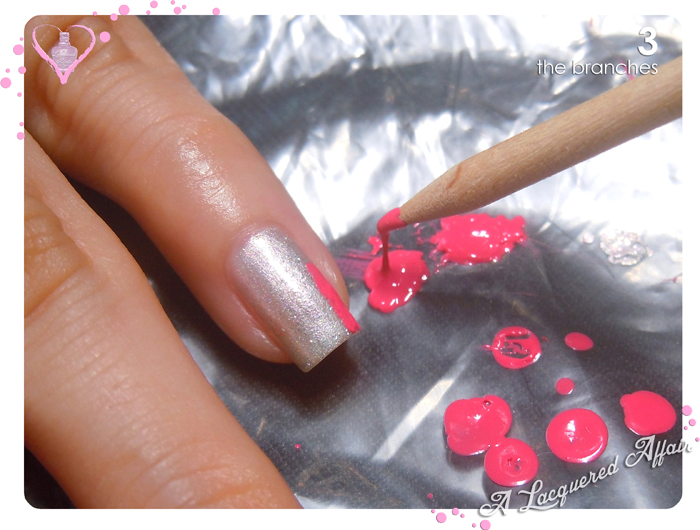 3) The Branches
Grab a non-porous surface material to act as a palette for the polishes (or an actual palette would be ideal). Here, I'm using an old ziplock plastic bag.
Drop a blob of the polish onto the surface and wait about 3 - 5 minutes, or until the polish is semi-dry.
Try to pick the polish up with the woodstick (or toothpick will work too). If it forms a stringy texture as shown above, you're ready for the next step.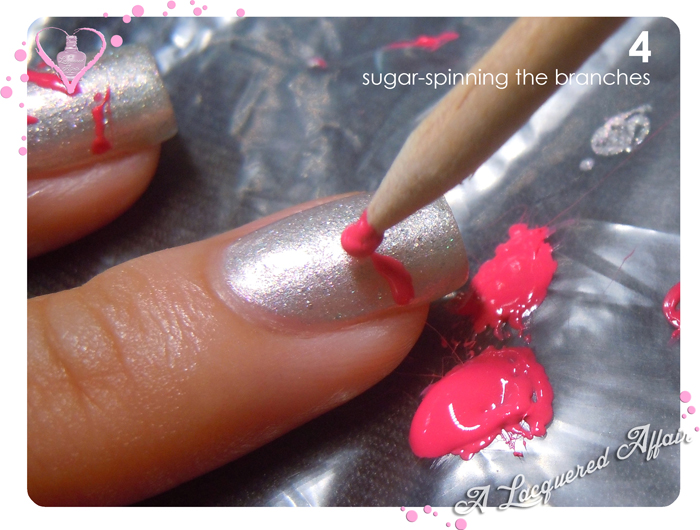 4) Sugar-spinning the Branches
This WILL get messy, so shield the skin surrounding the nails with sticky tape or apply vaseline for easier clean-up afterwards.
Lift the tacky polish and drag it over the nail. I dragged it horizontally across, let it settle halfway across the nail, then continue in another direction in a shorter 'stroke'. Continue a with a few more 'branches' at random to get the effect of tree branches.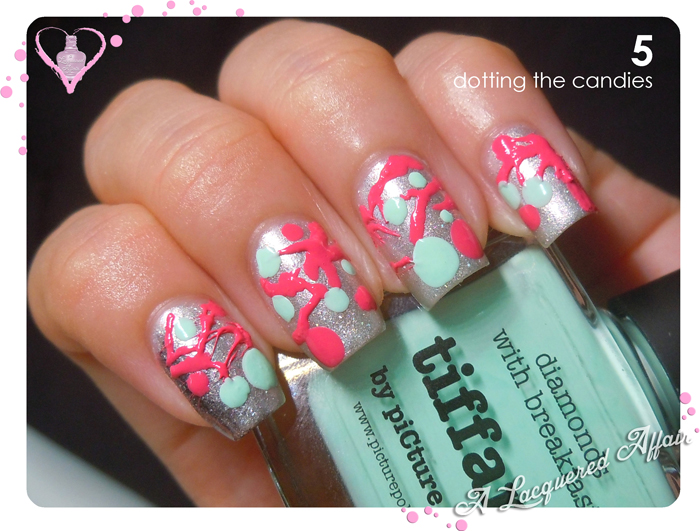 5) Dotting the Candies
Using the largest dotting tool, dot each colour at random placements. Smaller ones can be added for variety. Wait for them to at least be semi-dry before adding the next layer.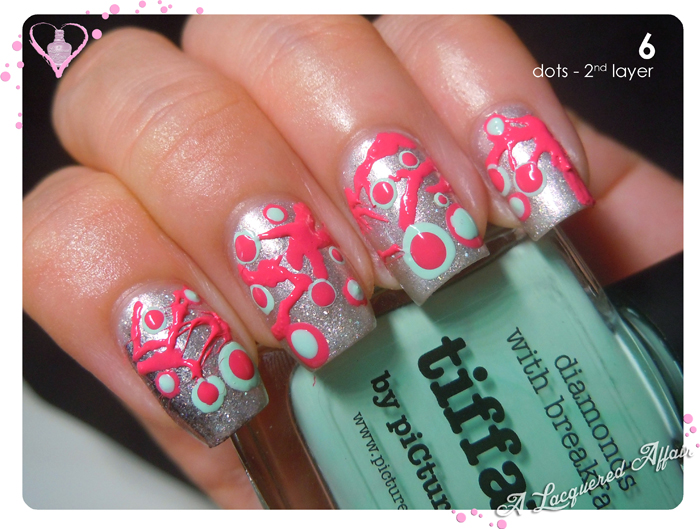 6) Dots - the 2nd Layer
Dot on the second layer in a slightly smaller size over the first, trying to set them as center as possible.
Set to dry then repeat until the last layer you can manage to dot is with using the sharp end of the woodstick.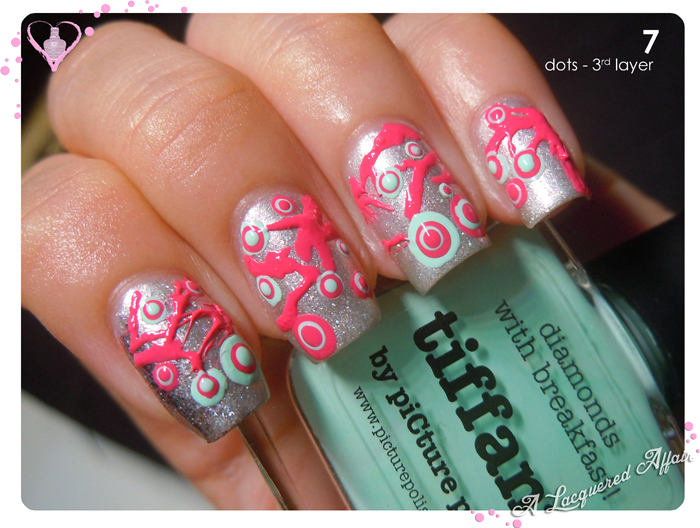 7) Dots - the 3rd Layer
Repeat as in step 6.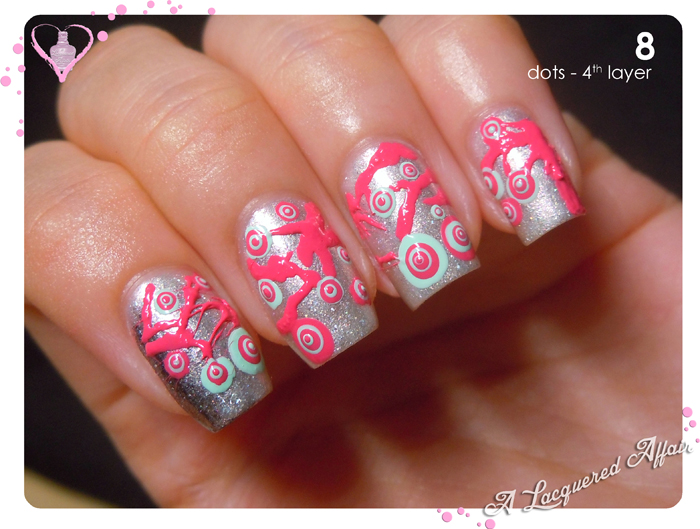 8) Dots - the 4th Layer
Repeat as in step 6. This might be the last layer one can manage to include.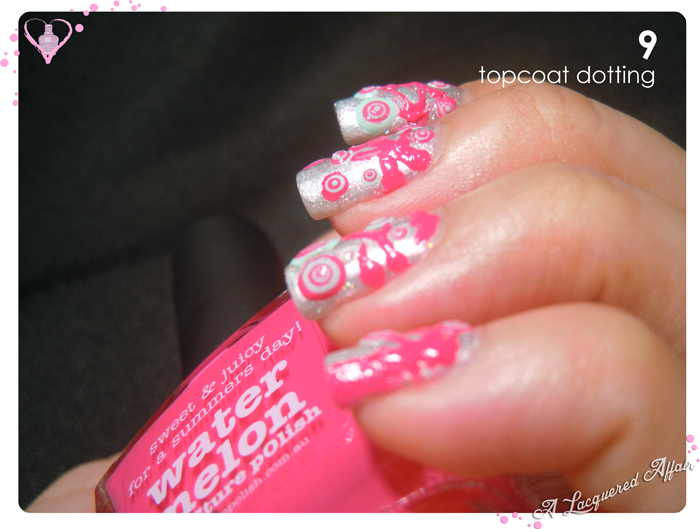 9) Topcoat Dotting
I dotted on a generous blob of topcoat over each candy circle. The topcoat should be set down for some time to reduce any bubbles that may have formed. Try not to use a fast drying topcoat, or the blog may warp during drying. This step may be skipped if you prefer a flatter look for the circles.
And we're done!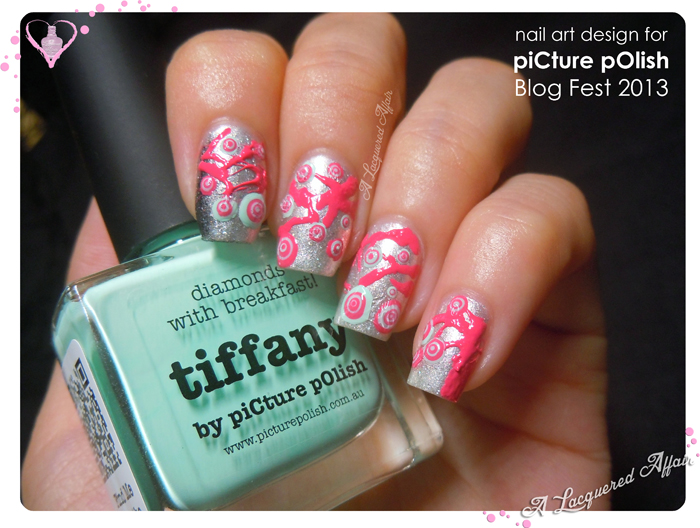 It actually feels pretty good that I managed a nail art without glitter!
If you're interested in getting your hands on piCture pOlish, here are some useful information to note:
♥ Shipping - to view shipping costs, terms and conditions
♥ Network - to view a list of piCture pOlish resellers nearest to you
♥ Everyday Deals - check out some of their pretty cool ongoing deals
Also, you may stalk, I mean follow,  piCture pOlish on the following social media platforms:
♥ Facebook
♥ Twitter
♥ Instagram
♥ Pinterest
♥ YouTube
Hope you've enjoyed this post, and remember to VOTE!
View the other participants' creations:
<script type="text/javascript">// <![CDATA[ document.write('<script type="text/javascript" src=http://www.inlinkz.com/cs.php?id=299872&' + new Date().getTime() + '"><\/script>'); // ]]></script>
Cheers!
To Leave a Comment
I've noted that OnSugar's Comment feature has caused a few readers frustration by not accepting their input. While OnSugar works on rectifying it, I did a trial and error and found that comments don't get red-taped if you enter your information in the "Name" field without any space, ie. "ALacqueredAffair" instead of "A Lacquered Affair". I hope this works. As much as I want to, OnSugar doesn't allow the disabling of Captcha.
Disclaimer: The above piCture pOlish products was sent for the purpose of the event. All other materials are my own. However, all opinions expressed are my own, and will always be.