United
"China Glaze United is a medium mauve-toned pink glitter in a clear base... From the China Glaze United In Purpose, Breast Cancer Awareness Collection, 2012." - The Beauty Clutch
Hello mid-week and Happy Halloween!
I was torn on what to post for this last day of October - Halloween-inspired or #PolishUsPink for Breast Cancer Awareness. Since I've been a part of the #PolishUsPink with too few BCA manicures, I decided to continue with this last post for BCA 2012. Call it the last hurrah, if you may. Plus, I also hear that Pink Wednesday is quite a popular movement too.
This closing BCA manicure features China Glaze United, a glitter polish from the Breast Cancer Awareness Collection 2012 (how apt!). This was the only polish I picked up from that collection, at the recommendation of Susan of The Subtle Shimmer. And I'm loving the subtle shade with undeniable holo sparkles at the slightest tilt.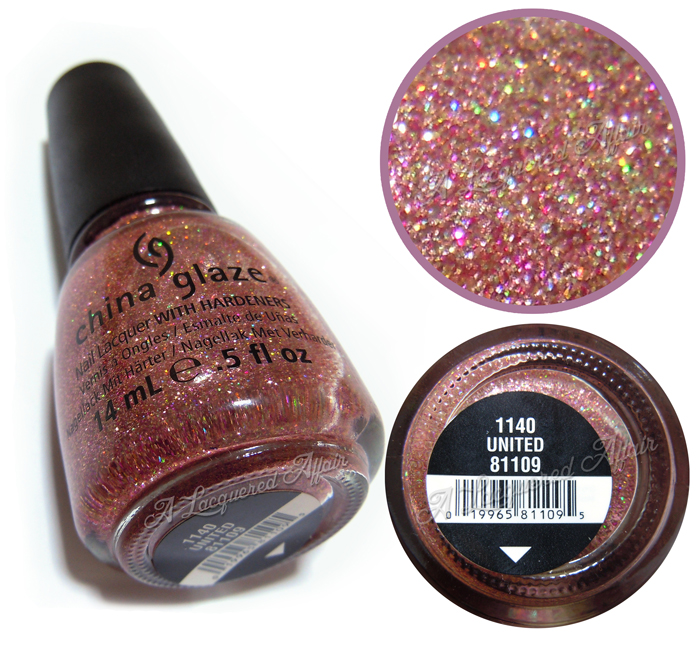 I'll be brief with this post. Here's one coat of United over 1 coat of Poshe 4-in-1 Strengthening Basecoat: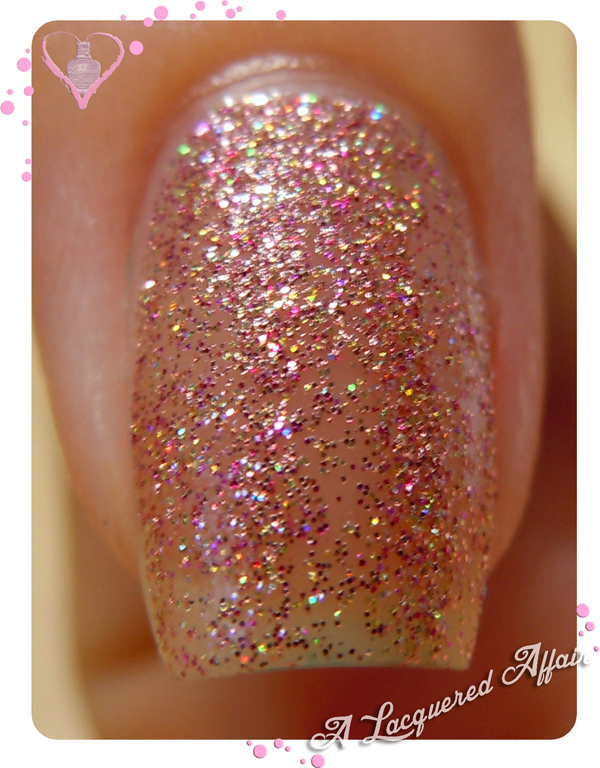 The concentration of glitter in this polish is quite dense, though I did get some bald spots with the first coat. The glitter did spread well with normal polish strokes and the viscosity was easy to work with.
Here's United in 3 coats: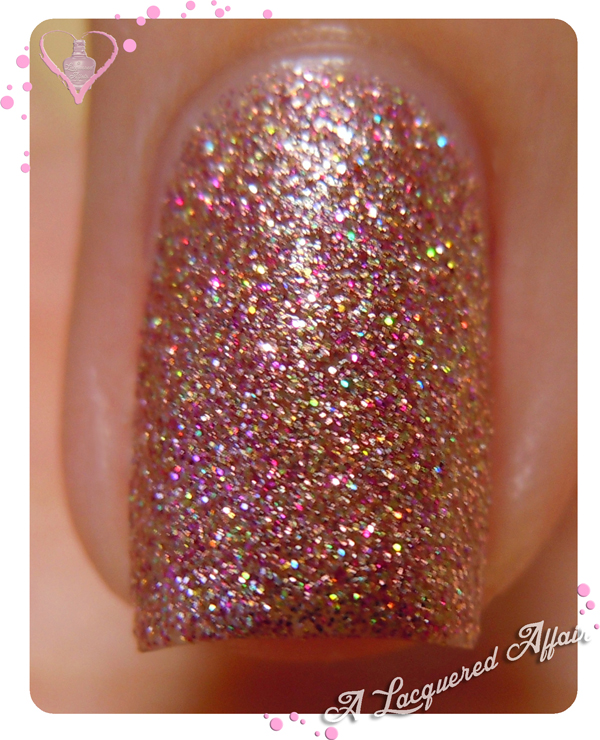 If one is not too particular about slight VNL, 3 coats should suffice.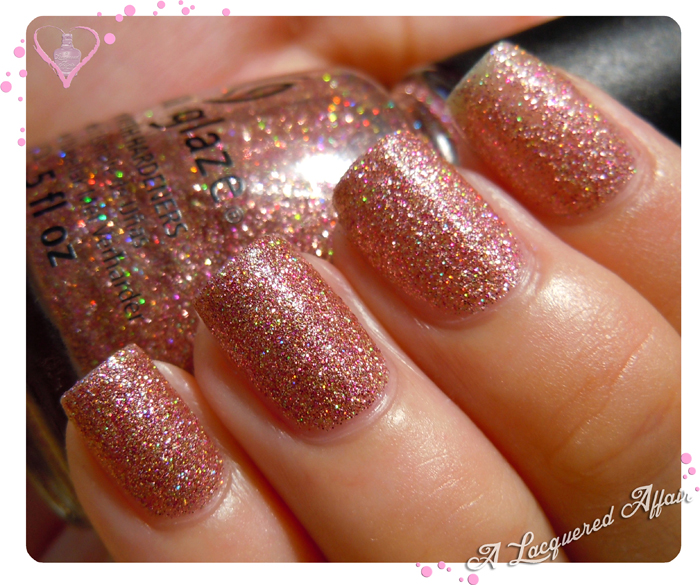 3 coats of United on all nails except the index finger - 1 coat, no topcoat
This was taken under artificial light. Why do I feel this shades gives me 'lobster fingers'?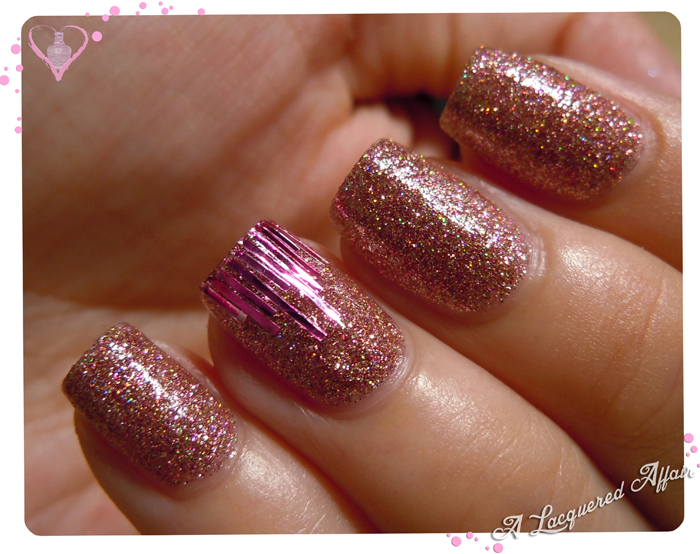 United in 3 coats on all nails, finished with Cult Nails Wicked Fast Topcoat
I recently received my first set of striping tapes from my first purchase off eBay (I sense more devasting blows to my wallet to come), and decided to give the pink one a try.
The above simple design was inspired by this:
I've been listening to a lot of music I loved during younger days while blogging or painting nails, and thought this 'sound bar' would look cool. I think I might be wrong about this one.
Parting shot: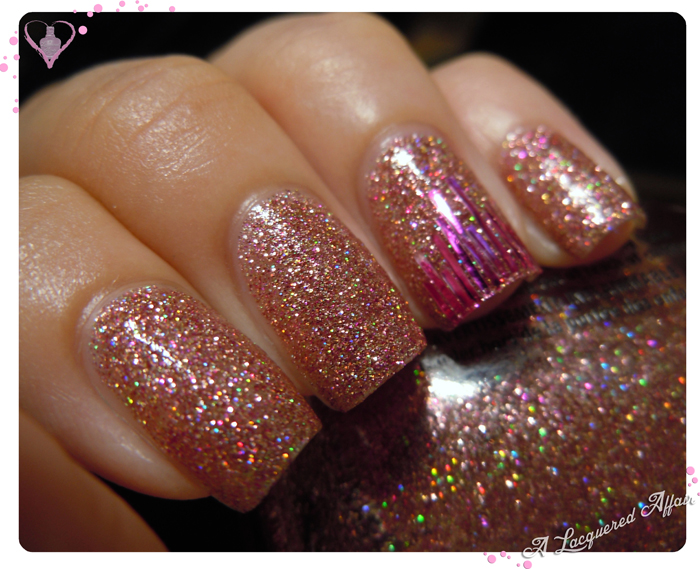 Doop dee doo.. the last boo-rah.
This limited edition shade was purchased at SGD 8.00 at DYON International. And relevant Breast Cancer Awareness/ support organisations in Singapore can be found in my first #PolishUsPink post here.
Got to give a final applause to Susan of The Subtle Shimmer for putting this #PolishUsPink collaboration together. I've enjoyed seeing so many creative and amazing BCA manicures and nail art.
<script type="text/javascript">// <![CDATA[ document.write('<script type="text/javascript" src=http://www.inlinkz.com/cs.php?id=196585&' + new Date().getTime() + '"><\/script>'); // ]]> // ]]></script>
2 more sleeps till Friday. Hang in there, lovelies!
♥ ♥ ♥ ♥ ♥
To Leave a Comment: I've noted that OnSugar's Comment feature has caused a few readers frustration by not accepting their input. While OnSugar works on rectifying it, I did a trial and error and found that comments don't get red-taped if you enter your information in the "Name" field without any space, ie. "ALacqueredAffair" instead of "A Lacquered Affair". I hope this works. As much as I want to, OnSugar doesn't allow the disabling of Captcha.
Disclaimer: I am not sponsored/ endorsed by any of the above-mentioned companies. All opinions expressed are my own, and will always be. All products were purchased by me.