| ih-lu-zhuh-n |
"something that deceives by producing a false or misleading impression of reality" - Dictionary.com
Hello there lovelies!
I know, I know, it has been a terribly long while since the last post. My work schedule the past month has been ridiculously crazy to a point where I question my continued employment with the company. But that's whole other unrelated content altogether.
One of my swatching finger suffered a flesh wound while prepping an event at work.
I was in Germany for an abrupt work trip last weekend, which threw my schedule off, a lot! I took a whopping 3-plus gigabyte worth of photos, but a few dozen were lost during file transfer. I'm (still) frantic about it.
Everytime I get a chance to scroll through Instagram, I longed to paint my nails and experiment with more nail art.
Yeah, that pretty much sums up my excruciatingly long month.
Moving on, today's post documents one of my first experiences with a thermal nail polish - a nail polish colour that transitions into another during a temperature change. And this featured polish is Fuschia Illusion by Liquid Sky Lacquer. After having it swatched, I wore it again during my trip last week to Germany, just to have fun with it since the temperature variance was wider over there.
Liquid Sky Lacquer is an indie label based in San Francisco Bay Area, California, USA that handcrafts a wide variety of big 3-free nail polishes since September 2012. It is available on liquidskylacquer.bigcartel.com.
First Impressions
I've openly admitted how easy it is for me to be suckered into a product with an attractive packaging. This Liquid Sky Lacquer that was sent for review comes in a pretty little purple organza drawstring bag and, already, I'm in love.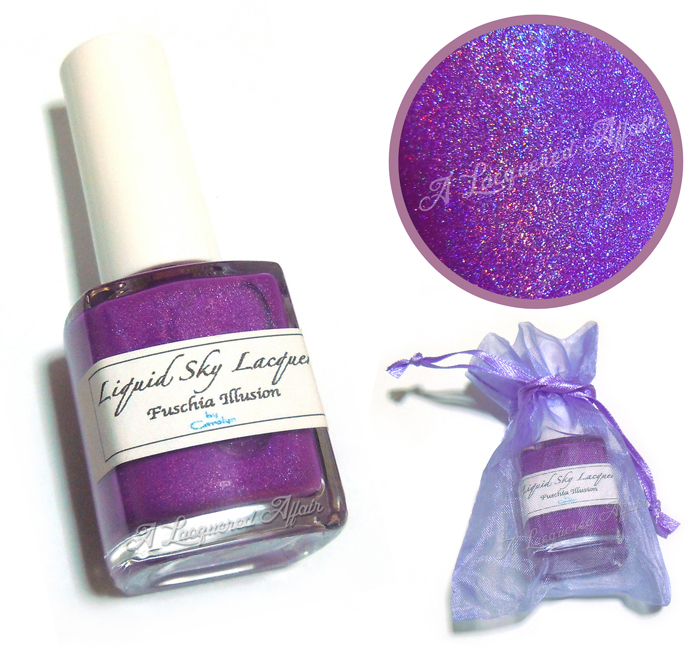 The bottle, with anglar corners, houses about 15ml or so of product (judging by the looks of it).
In the bottle, Fuschia Illusion is a dark purple polish infused with scattered holo particles. It transitions into a pink fuschia shade when warm or hot.
As the name may already suggest, it creates an illusion that the shade is fuschia while on the nails at body temperature, but gradually changes to purple when the temperature falls (at least 8-10°c).
The Formula
Here's a shot of 1 coat of Fuschia Illusion: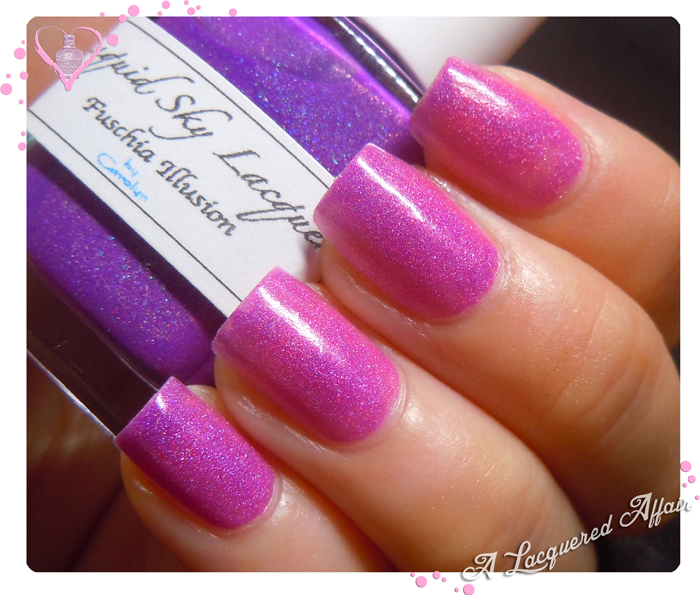 The coverage is impressively even, smooth and streak-free in one coat, though not completely opaque. It dries to a slightly waxy finish.
The first 2 nails I worked on were quite tricky for me since it changes colour with temperature. When the polish was painted onto the nails, and warmed by the body temperature and humid tropical environment, it immediately transitioned into fuschia. It threw me off a little as I went from stroke to stroke, questioning if the coat was sufficiently thick or even enough, or if streaks will form and there's need to go over and even it out. Thankfully, it dried to an even fuschia shade.
Here's 2 coats, topped with Essence Gel-Look topcoat, cooled: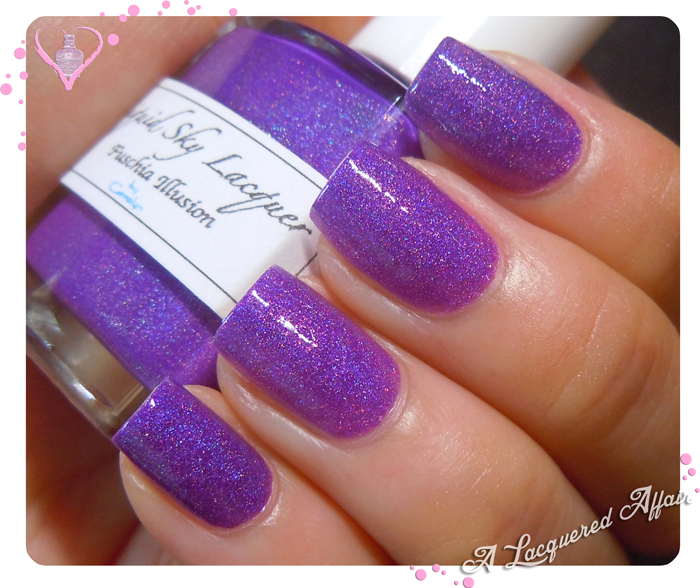 In a climate that's mostly 30-35°c this time of the year, it was tough maintaining the polish at this colour, unless I was at work, where the air-conditioning control master (we nicknamed) insists on keeping the temperature below 22°c.
With a second coat, the scattered holo-ness became more visible, even under artificial light.
Here's a shot of Fuschia Illusion in the midst of a gradual colour transition: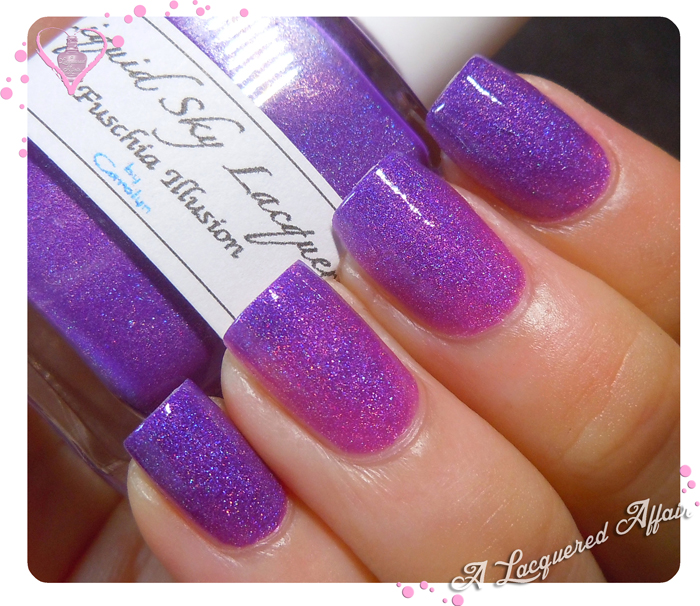 And here's a shot of the stark colour contrast when in direct contact with a glass of ice cold water: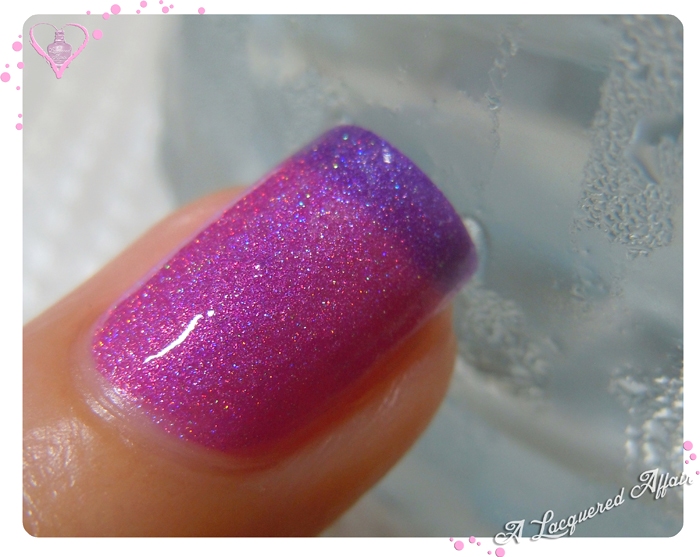 I was lucky enough to have the sun come out that weekend, so I grabbed the opportunity to capture some of the holo in the sun.
Here's 2 coats in a warm state: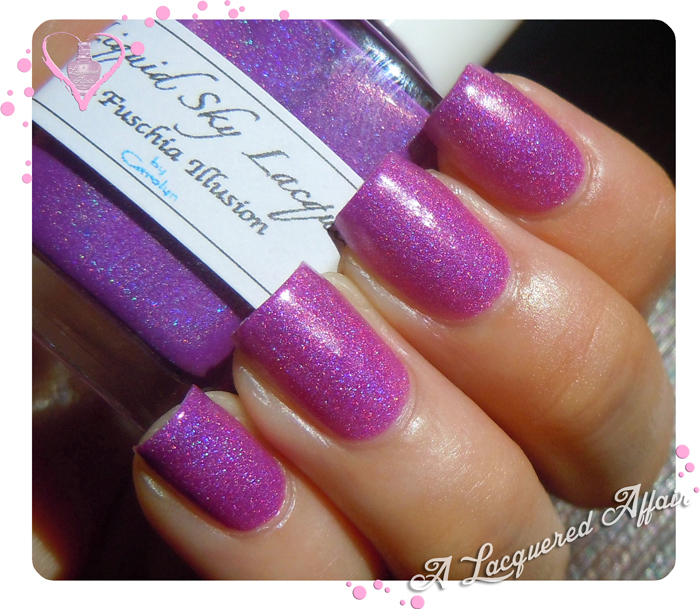 In transition from cool to warm: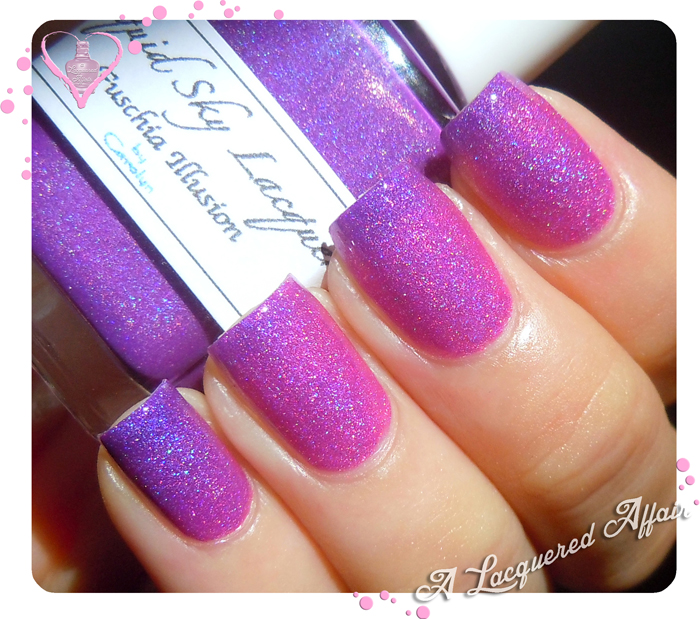 I absolutely love the look of it on the pinky (left)! It feels like a fairy working her magical sparkling dust.
And here's a close-up:


Final Thoughts
I didn't have an attraction to thermal polishes (likewise for glow-in-the-darks) because they seem like a novelty/ bandwagon that a few are jumping on. But watching the transition before my eyes is like...magic! It'a alive, everytime the temperature changes! And I'm delighted that it befuddles nail polish 'muggles'.
While I enjoyed wearing it and being amazed by the transition, it was quite a challenge photographing the swatches, especially when I wanted to catch it in a certain colour transition ratio. It reacts very quickly to sharp temperature changes; fun to watch, but difficult to capture a good shot in an instant.
Liquid Sky Lacquer is available through their website for USD12.00, or through Mei Mei's Signatures for SGD18.00, excluding cost of shipping. Both ship internationally.
So, what's your experience with or opinion of thermal nail polishes?
Another work week beckons tomorrow, and I'm already feeling the inertia of waking up. Keeping my fingers crossed for another blogpost to come up pretty soon. Till then, have a Fun-day!
To Leave a Comment: I've noted that OnSugar's Comment feature has caused a few readers frustration by not accepting their input. While OnSugar works on rectifying it, I did a trial and error and found that comments don't get red-taped if you enter your information in the "Name" field without any space, ie. "ALacqueredAffair" instead of "A Lacquered Affair".
Also, if you don't see your comment showing immediately, OnSugar just intercepted it as spam, but it's there. I just have to manually 'Publish' it.
I hope this works. As much as I want to, OnSugar doesn't allow the disabling of Captcha.
Disclaimer: The above product was sent for review. However, all opinions expressed are my own, and will always be.