World Water Day
"World Water Day has been observed on 22 March since 1993 when the United Nations General Assembly declared 22 March as World Day for Water. Observance began in 1993 and has grown significantly ever since; for the general public to show support, it is encouraged for the public to not use their taps throughout the whole day.
In addition to the UN member states, a number of NGOs promoting clean water and sustainable aquatic habitats have used World Day for Water as a time to focus public attention on the critical water issues of our era." - Wikipedia
Photo Source
TGIF, lovelies!
And we have a lot to thank for this Friday, being World Water Day 2013. As a largely developed country, we are extremely fortunate to have clean supply of drinking water with a turn of a tap here in Singapore, even though we do not have sufficient supply of natural water to sustain our population.
Though this post or blog isn't about international issues or events, I'm happy to relate this week's manicure to a constructive current event when Susan of The Subtle Shimmer announced that one of this week's #SGSwatchFest is associated with World Water Day! In case you're wondering, a side note explaining what #SGSwatchFest is about was in last week's post.
So, this is just going to be a quick post of my manicure for World Water Day.
The base polish for this manicure is Girly Bits Cosmic Ocean. Here's 2 coats over Poshe 4-in1 Nail Strengthening Treatment basecoat: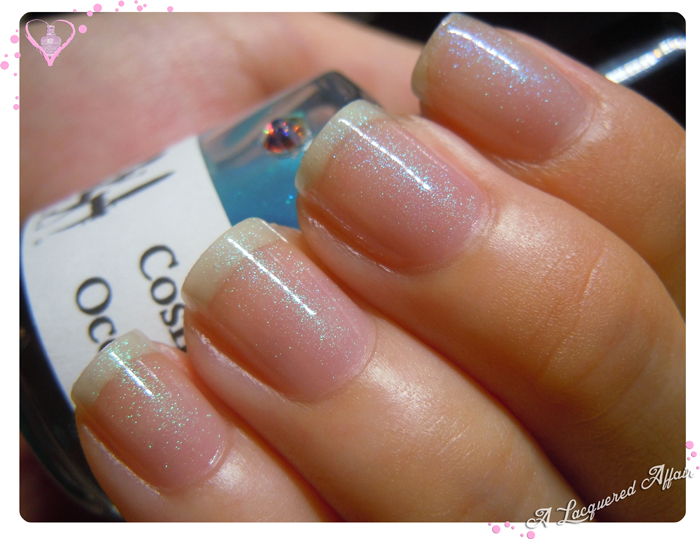 This is a beautiful blue to green colour-shifting topper polish that glides on smoothly. I decided to use it without a base colour for a softer effect. The name and effect suit the theme, so on the nail it went!
I got this one back in mid 2012, but never really got around to using it in a full mani. I believe I got it directly from Girly Bits online store, though these days, one can also purchase her beauties from Mei Mei's Signatures, Harlow and Co. and Llarowe, all of which ship internationally.
Over the Ocean is a diagonal glitter gradient layer of Darling Diva Polish Water Dragon in 2 coats, topcoated with 2 coats of Seche Vite: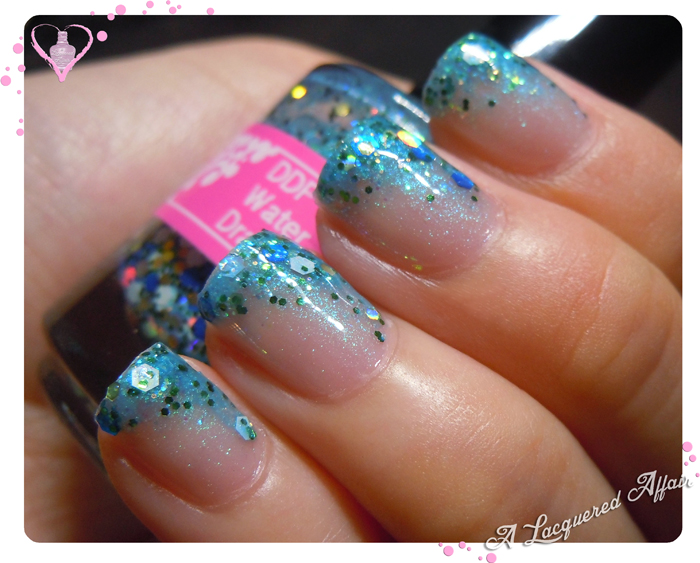 Water Dragon was also purchased back in mid 2012 from Darling Diva Polish's Etsy store. These days, Mei Mei's Signatures carries DDP's beautiful creations as well. This glitter bomb of a polish is packed with large white, blue and holographic silver hex glitter, large holographic silver square glitter, mid-sized gold holographic hex glitter, tiny green and silver hex glitter in a teal blue jelly base, infused with green-blue shimmer. Can you sense a pattern with the polishes used, aside from the shade?
Some fishing was resorted for the large hex glitters, but I didn't need an tool to get them into place.
Close-up: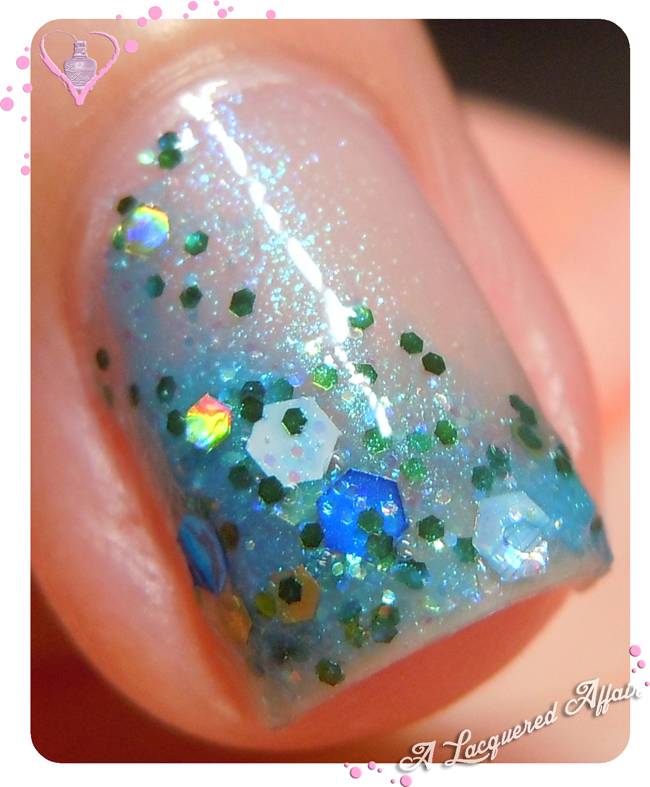 I love how the glitter gradient graduates off to the strong shimmery particles of Girly Bits Cosmic Ocean, very much like the glinting surface of an ocean.
Last look: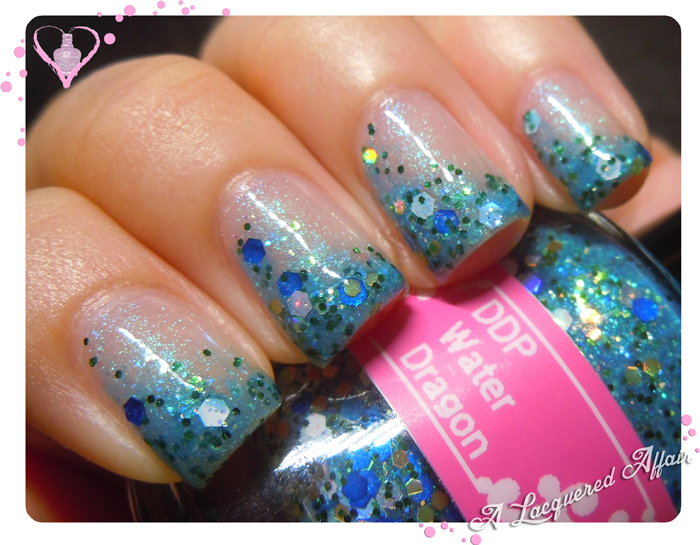 And for the curious minds, here's the Instagram version: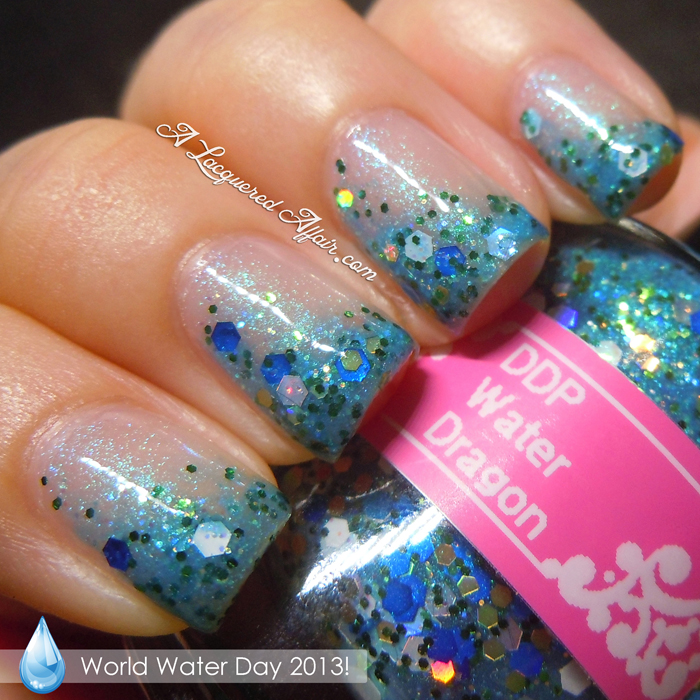 If you're inspired by World Water Day, I'd love to check your mani out. And try to participate by not running your tap on 22 March. It's going to be difficult for me while I'm out at work, although I do make a conscious effort to reduce unnecessary usage of water all year round (#notlipservice).
Till the next post, cheers to water conservation and safe supply for all!
To Leave a Comment: I've noted that OnSugar's Comment feature has caused a few readers frustration by not accepting their input. While OnSugar works on rectifying it, I did a trial and error and found that comments don't get red-taped if you enter your information in the "Name" field without any space, ie. "ALacqueredAffair" instead of "A Lacquered Affair". I hope this works. As much as I want to, OnSugar doesn't allow the disabling of Captcha.
Disclaimer: I am not sponsored/ endorsed by any of the above-mentioned companies. All opinions expressed are my own, and will always be. All products were purchased by me.