"On Her Majesty's Secret Service is the sixth spy film in the James Bond series, based on the 1963 novel of the same name by Ian Fleming." - Wikipedia
Good Sunday evening/ afternoon/ morning, lovelies! I've got so many posts to keep up with this month and with so much going on in October, it's the perfect opportunity to showcase some of the beauties that have been lining up.
With a new James Bond film, Skyfall, releasing very soon, OPI has launched a 12-piece Skyfall Holiday 2012 Collection to mark 50 years of James Bond 007, all named after Bond film titles. The 13th polish comes in a special limited edition bottle, a 18K gold leaf polish named Man With The Golden Gun (not released in Singapore yet, maybe ever?).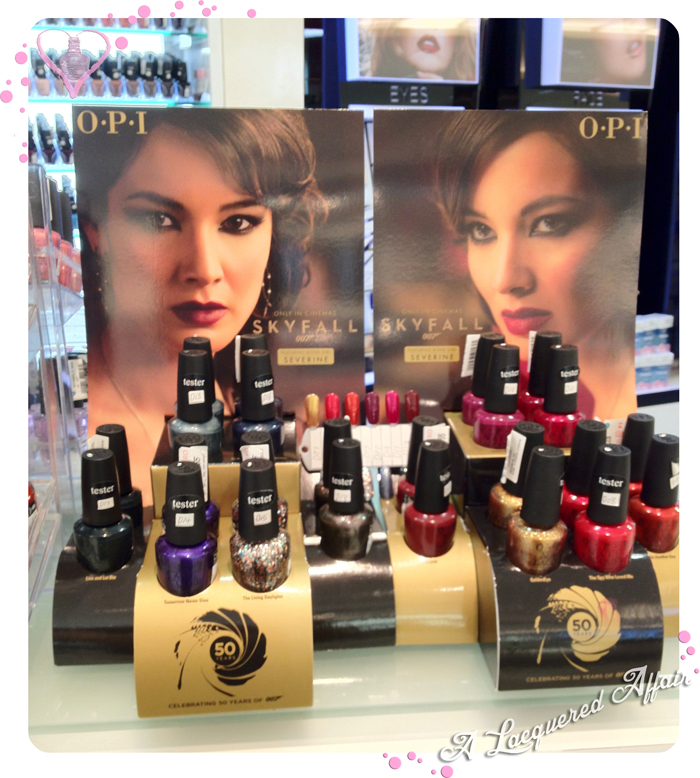 OPI Skyfall display at Metro Dept Store, Singapore (taken with iPhone 4S)

The promo shots for the collection were so promising, but upon looking at them in real life at the counter, only 2 screamed "buy me!" (thank goodness for testers). On Her Majesty's Secret Service was one of them.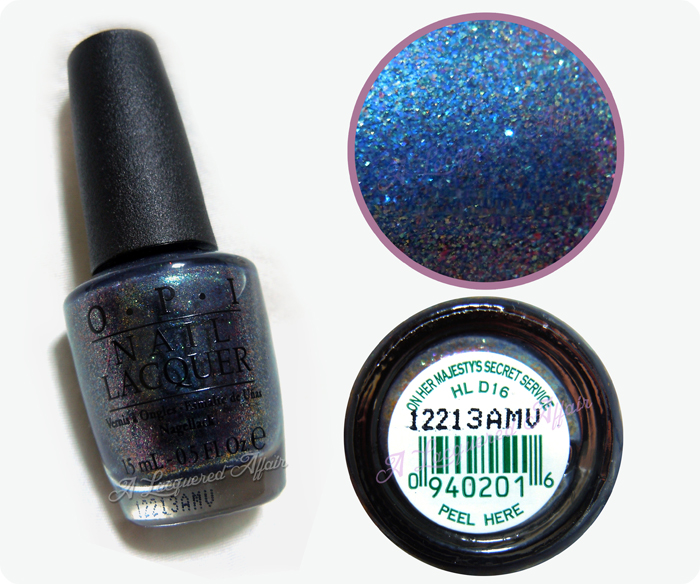 An intricate blend of blue-green, purple and gold-bronze flecks/ particles in a blue, charcoal grey shimmery base, this seems like the blue-grey cousin of Number One Nemesis (a favourite of mine) from their earlier The Amazing Spider-Man collection. This is 2 coats of On Her Majesty's Secret Service over 1 coat of Poshe 4-in-1 Treatment Basecoat, topped with 1 layer of Cult Nails Wicked Fast Topcoat:
Indoors, artificial light
Like most OPI polishes, the formula applies seamlessly. It's too sheer for a single coat, so a second coat is necessary. Without a topcoat, the glossy finish is acceptable, but a topcoat brings out the shimmers and sparkles more.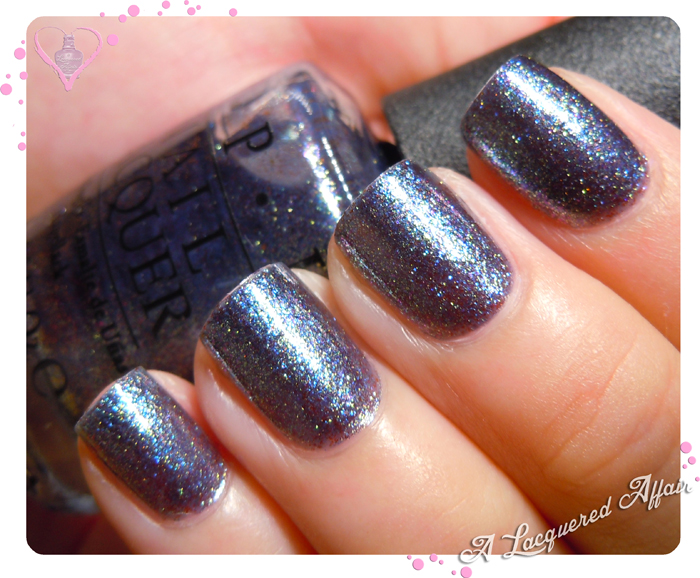 Outdoors, sunlight
A close-up at all the shimmers, flecks, specks, particles and all the goodness in the polish: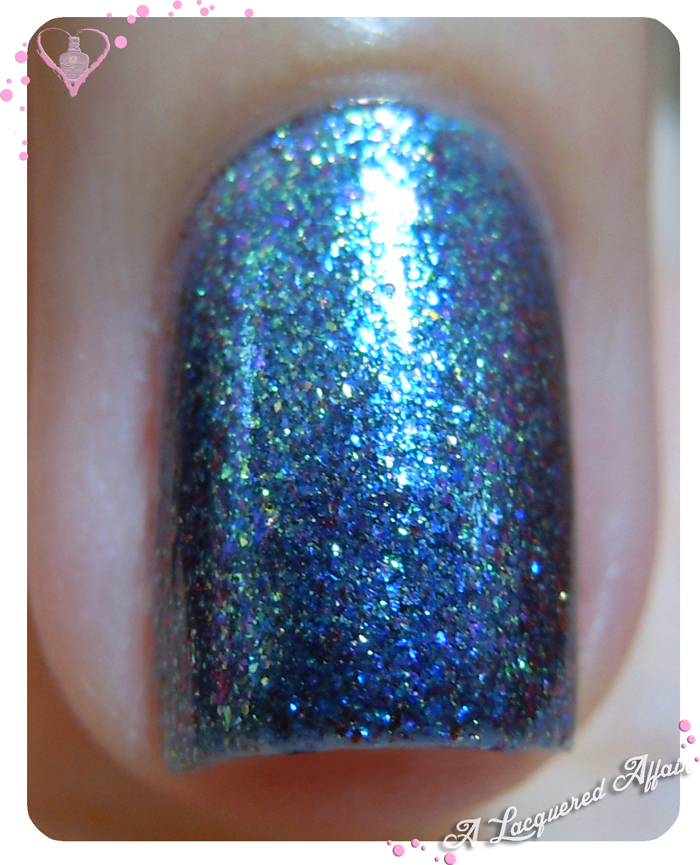 It's been said (and compared) that On Her Majesty's Secret Service is a dead dupe for Zoya FeiFei, but I do not own it to compare. Because of the likeness, I struck FeiFei off my lemming list. So this remains a unique polish in my stash (for now).
Personally, I was a little disappointed that the collection did not present holiday shades/ finishes, which could be a nice twist, being inspired by Bond. But 80% of the shades aren't what I would gravitate towards. What are some of your picks from this collection?
Till next post, have a lovely weekend!
♥ ♥ ♥ ♥ ♥
To Leave a Comment: I've noted that OnSugar's Comment feature has caused a few readers frustration by not accepting their input. While OnSugar works on rectifying it, I did a trial and error and found that comments don't get red-taped if you enter your information in the "Name" field without any space, ie. "ALacqueredAffair" instead of "A Lacquered Affair". I hope this works. As much as I want to, OnSugar doesn't allow the disabling of Captcha.
Disclaimer: I am not sponsored/ endorsed by any of the above-mentioned companies. All opinions expressed are my own, and will always be. All products were purchased by me.